Customer Reviews
11/02/2021
Kathleen O.

United States
Using Mermaid Tale as a wash on my seashell mirror
I absolutely love this paint for the vibrancy, ease of use, diversity in different mediums, blending/distressing techniques both wet & dry. Absolutely wonderful! I used three different DIY paints as a wash on my seashell mirror and it turned out stunningly, drop dead gorgeous!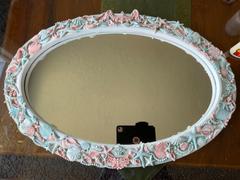 11/03/2021
Serendipity House LLC
Wow! This is such a work of art! Beach art! Thanks so much for sharing it. Do you have it hanging in your summer home?
05/09/2021
Prudence W.

United States
Michelle Rocks
Love the color!! This is my 3rd container ‼️